Fishing tips for February - April
​
PERKS

300/700 gms.

Colours: silver/blue (top colour), silver, silver/green, red/yellow.

​

LINE

Braid 30/50 lbs, breaking strain.

​

HOOKS

Trebles in sizes 6/0--10/0. Good quailty split rings and trebles are recomended,
Mustad, vmc etc

​

JIGS

​

Good for big cod

RODS

30/50 lb, class without roller top eye.

For extra sport use a 20lb class rod and abu
7000, penn 310, Fladen Maxximus etc

​

REELS

4/0 penn 345, Shimano tld, 20 type etc.

​

​

.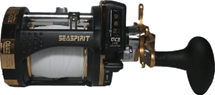 Line LINE COUNTERS
Clip on type. Balzer from germany.
​
LINE COUNTER REELS
Penn, DAIWA, Fladen.
​

GUMMIE MACS
6/0---10/0, red top colour,
red with coloured tip, orange.
​
Place gummie mac directly on top of perk. Paternoster rigs are not needed (flyers).
Tip! Leave "x-mas tree decorations" at home!
​
Examples of "x-mas tree decorations",
not needed.