Fishing tips for May - July
​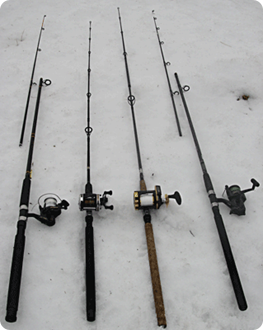 RODS and REELS
Left to right:
1) 9' spinning rod, medium action, fixed spool reel.
2) 7' 6 light pilk casting rod (type Öresund, Sweden), ABU 6 500 syn.
3) 8' medium boat rod, 100-135 g, TCA Seasprit SS 348C
4) 9' 6 pilk casting rod, 100-180 g, Shimano fixed spool.

​
For Deeper water use 30 lb class gear for heavier perking.
​
LINE
Braid, 15 lb - 30 lb. Mono, use IGFA rated nylon (Ande is one of the best for line class fishing).
​
SHADS

Main colours:

Coalfish: blue, blue/white, blue/black/white.

Cod: yellow/red, yellow, orange.

Tusk: orange

​

Shads

​

Cast out and let sink to the bottom. Fast

retreive for coalfish. Up to 10 m for cod,

slow retreive.

SMALL PERKS

80-150 g

Fishing, same as shads.

​

Small perks

​

BAIT

Top bait = herring. Paternoster (flyers), basic nylon, 100 lb for coalfish.
PERKS
300/700 g.
Colours: silver/blue (top colour), silver, silver/green,
red/yellow, red/black.
​



BOTTOM FISHING
WITH BAIT (BASIC)
​
TACKLE
Standard boom
Bottom tackle
​
50 cm line (heavy for fishing tusk). Hooks variable but circle hooks for deep water and fishing with nylon.
.
Weights
​
Use muppets - octopus or coloured tube. Orange works well for tusk.
​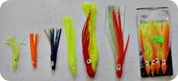 Muppets
​
Tubing trace
​
GUMMI MACS
​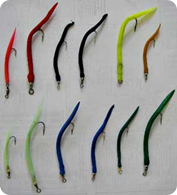 Gummi macs
​
Top colours: yellow/black (cod), red/green/lumie, blue, black and yellow (coalfish). Smaller ready made paternoster system from Fladen etc. also works well.
​
Twisters
​
Lead Heads
​